ICPU – Signal conditioner for IEPE / ICP sensors with voltage output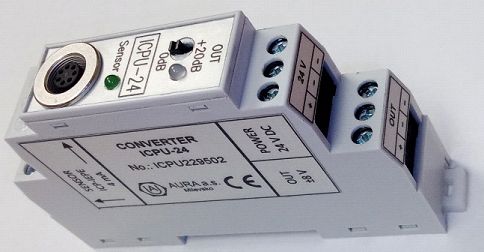 The connection of vibration sensors in industrial applications is not generally standardized. For piezoelectric sensors generating a charge proportional to the vibration acceleration, it is necessary to use a special amplifier with a high input impedance that converts the charge to voltage or current. On the other hand, the combination of an external charge amplifier and a piezoelectric sensor offers the advantage of using the high temperature resistance of the sensor itself, usually for temperatures around 250 ° C, sensors for 500 ° C are also commonly available. However, the sensor and amplifier assembly requires a special low-noise cable and a suitable separate charge amplifier design.

The principles of piezoelectric sensor with built-in electronics are therefore being promoted for industrial applications with temperatures up to 120 ° C. Such sensors are generally referred to as IEPE (Integrated Electronic Piezo Electric). There are several IEPE designs from different manufacturers. The most common of the IEPE is the ICP version developed by the PCB. Its main advantage is a simple arrangement where only two wires share power and signal transmission.
Due to the extension of the IEPE principle and the good availability of various types of sensors on the market, these sensors are often used in experimental and control measurements. However, standard measuring cards in many cases are not equipped with IEPE inputs or their design with these special inputs is significantly more expensive. Due to the combination of power supply and signal on common wires, it is not easy to connect the IEPE signal to the common voltage input of the measuring card or data logger.

The AURA Company has developed a stand-alone IEPE / ICP to voltage signal convertor based on the requirements of its customers. The convertor type ICPU is designed for output signals up to +/- 8V and is therefore suitable for a wide range of IEPE / ICP sensors with a sensitivity of 10 - 500mV / g. In addition, it is possible to switch the ICPU converter to 10x gain mode for particularly weak input signals.

The ICPU converter is designed for mounting on a DIN 35 rail, the power supply is galvanically isolated and can be 24 VDC or a widely used USB power supply 5V DC.



See the
data sheet
for details.